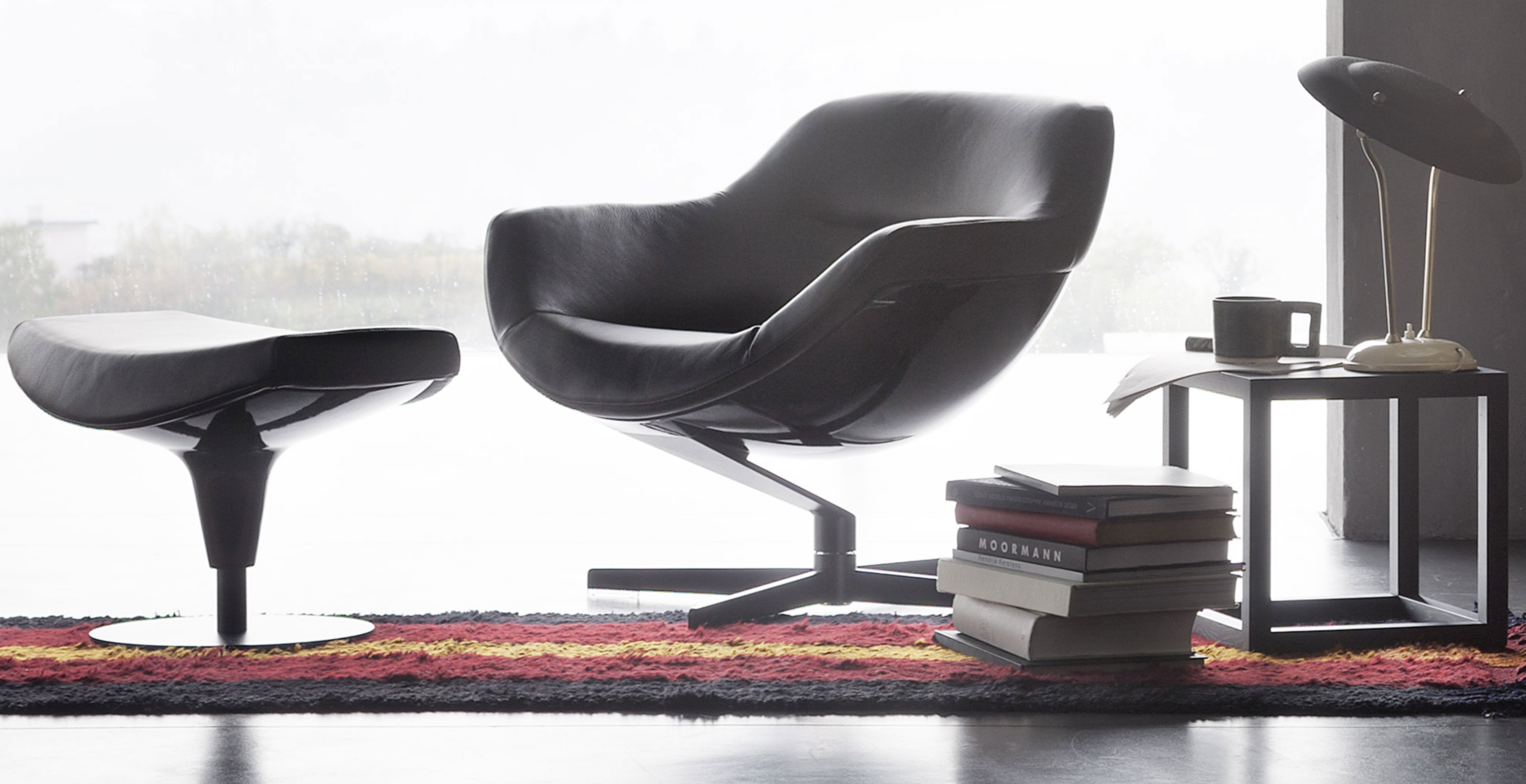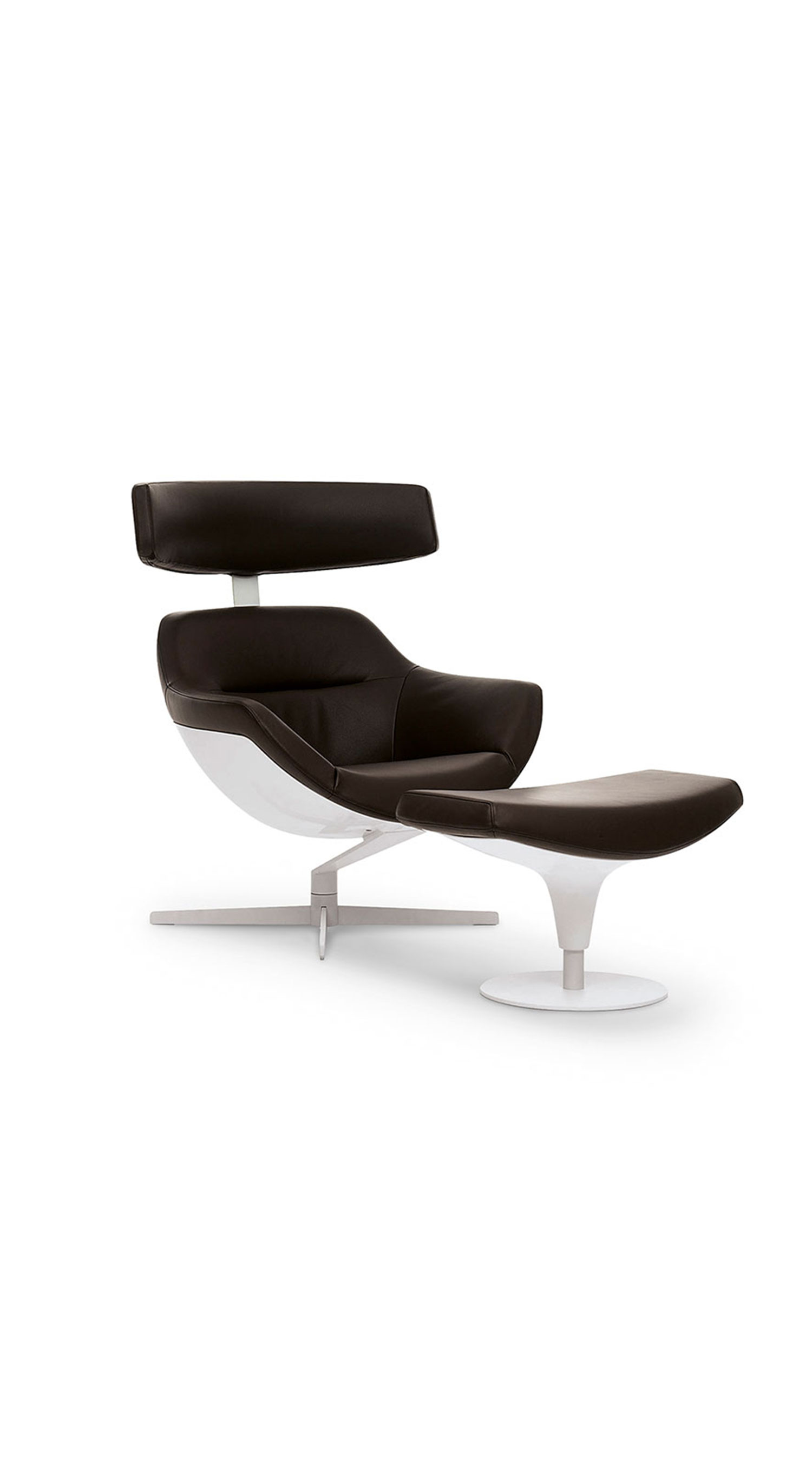 Modern incarnation of the lounge chair
An updated version of the classic, inviting, comfortable lounge chair juxtaposes different materials and thicknesses to lend present-day relevance and versatility.
CONTENTS
DESIGNER
In designing Auckland, Jean Marie Massaud undertakes a restatement, in a contemporary key, of the classic lounge chair, which serves to reconfirm the original looks and comfort of this timeless classic. The seat of this swivel chair, available in black or white with optional foot-rest, is characterised by the seat's shell-shaped structure, left deliberately exposed to evoke the armour worn by Kendo fighters. The shell protects the upholstered parts of the chair and is linked to the four-spoked base by a cantilevered metal support. This unusual arrangement confers a very faint, yet pleasurable, oscillating movement. The chair is complemented by a head-rest adjustable to eight height-options.
CHARACTERISTICS
FINISHES
DIMENSIONS
PRODUCT SHEET
Auckland is one of Cassina's swivel armchair models. It is also available with a headrest adjustable to eight height positions. The upholstery choices for this design armchair are leather or removable fabric.
FABRIQUE
LEATHER
13F360
13F354
13F356
13F355
13F357
13F353
13F358
13O033
13O041
13O034
13O035
13O046
13O045
13O042
13O032
13O031
13O030
13O044
13O043
13O040
13O036
13O061
13O057
13O051
13O063
13O056
13O053
13O059
13O054
13O062
13O058
13O050
13O055
13O052
13O088
13O093
13O092
13O096
13O090
13O087
13O097
13O086
13O091
13O098
13O089
13O095
13O094
13O079
13O099
13F863
13F860
13F867
13F866
13F869
13F859
13F868
13F865
13F864
13F861
13F858
13F862
13S044
13S003
13S002
13S001
13S023
13S004
13S024
13S043
13S022
13S041
13S042
13S021
13E860
13F928
13F946
13F936
13F926
13F934
13F929
13F925
13F938
13F939
13F947
13F924
13F935
13F937
13F927
13F948
13F324
13F457
13F458
13F326
13F323
13F437
13F459
13F438
13F328
13F327
13F325
13F439
13O613
13O612
13O611
13O615
13O617
13O618
13O614
13O607
13O606
13O616
13F742
13F747
13F741
13F746
13F738
13F740
13F739
13F744
13F745
13F737
13F736
13F743
13F105
13F097
13F099
13F107
13F098
13F090
13F101
13F093
13F106
13F103
13F102
13F104
13F091
13F096
13F092
13F095
13F025
13F015
13F027
13F020
13F011
13F026
13F021
13F010
13F019
13F024
13F016
13F017
13F013
13F029
13F028
13F022
13F023
13F018
13F014
13F012
13L584
13L572
13L582
13L583
13L579
13L578
13L580
13L586
13L574
13L575
13L587
13L585
13L588
13L576
13L573
13L570
13L581
13L589
13L577
13L571
13L633
13L634
13L635
13L630
13L640
13L642
13L632
13L638
13L631
13L639
13L637
13L641
13L636
13L015
13L012
13L018
13L011
13L020
13L014
13L010
13L017
13L013
13L019
13L016
13L021
13F754
13F755
13F783
13F782
13F781
13F780
13F784
13F785
13F753
13F786
13L650
13L664
13L660
13L656
13L663
13L659
13L654
13L657
13L653
13L662
13L652
13L661
13L655
13L658
13L651
13Y417
13Y412
13Y416
13Y415
13Y411
13Y414
13Y421
13Y419
13Y418
13Y413
13Y420
13Y251
13Y276
13Y284
13Y281
13Y253
13Y246
13Y286
13Y285
13Y282
13Y280
13Y274
13Y244
13Y260
13Y258
13Y257
13Y283
13Y255
13Z307
13Z308
13Z303
13Z302
13Z305
13Z306
13Z200
13Z300
13Z309
13Z304
13Z368
13Z364
13Z360
13Z365
13Z361
13Z366
13Z362
13Z363
13Z367
13X341
13X247
13X269
13X295
13X335
13X331
13X276
13X326
13X338
13X334
13X342
13X330
13X333
13X606
13X290
13X202
13X340
13X201
13X328
13X339
13X336
13X332
13X337
Filename

277_AUCKLAND.pdf

Size

242 KB

Format

application/pdf
download