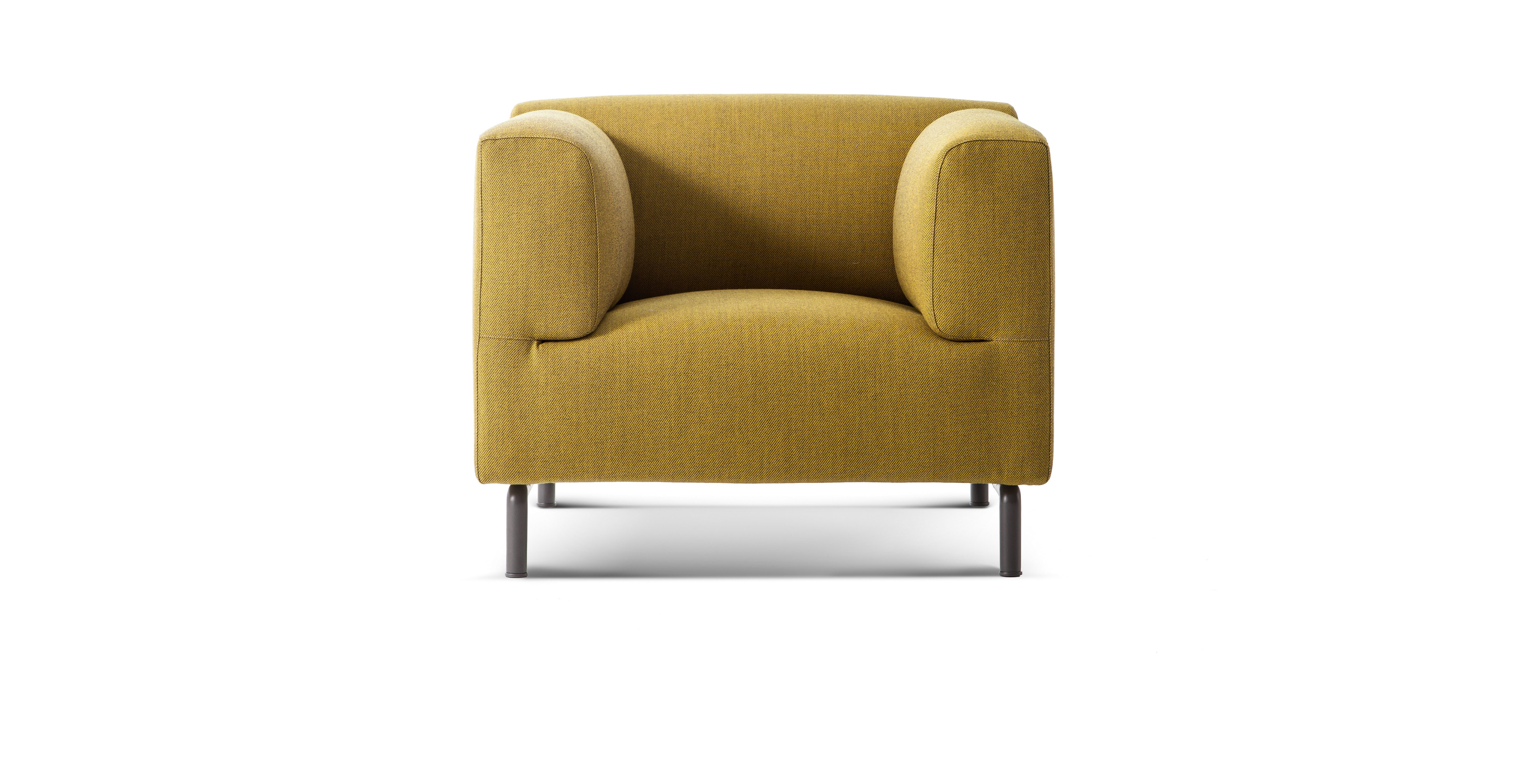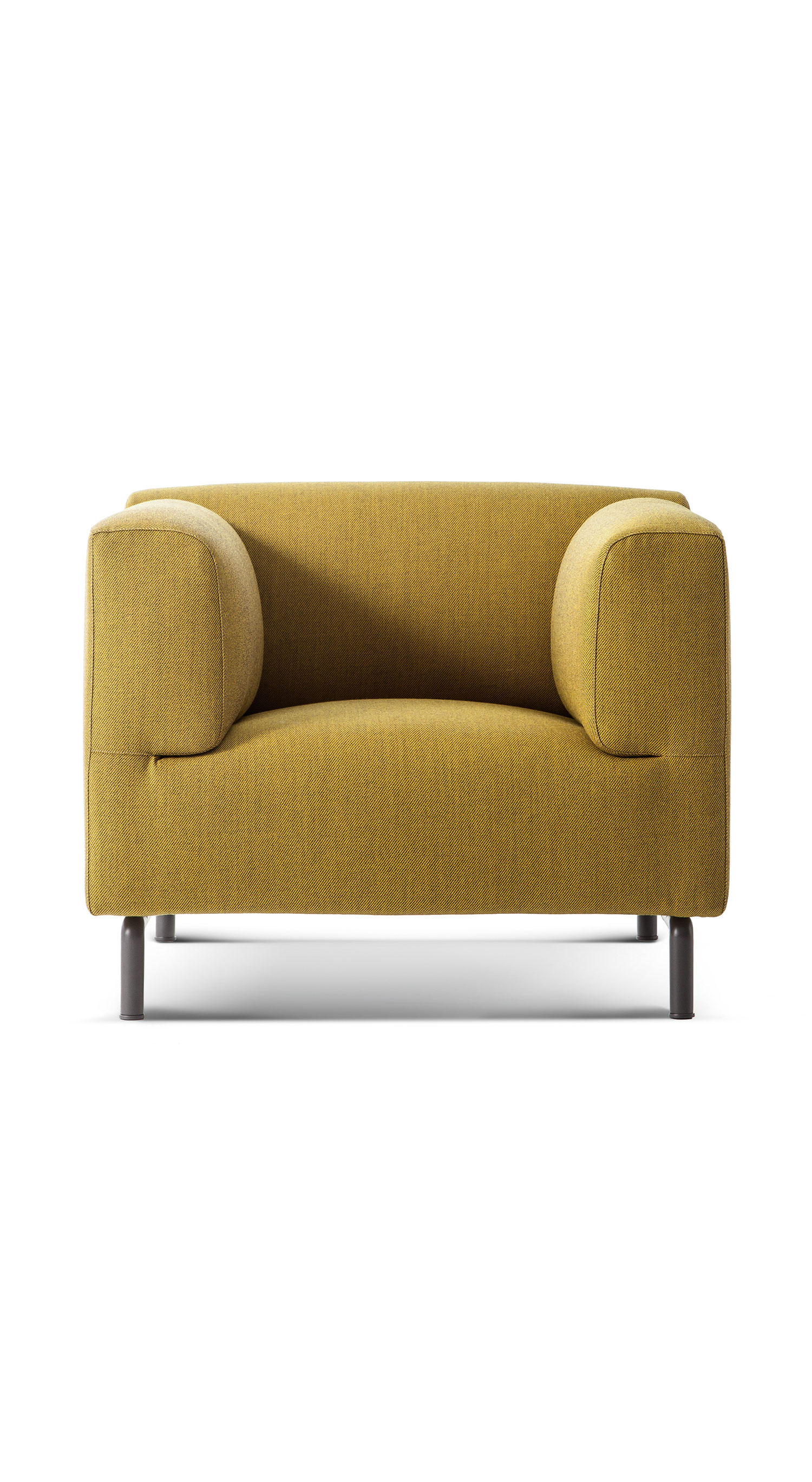 A design armchair with sleek, pure, geometric lines that, in its utter simplicity, embodies comfort, versatility and flawless elegance.
CONTENTS
Piero Lissoni with S. Sook Kim This system is marked by elegance, comfort and a wide range of combinations allowing for great flexibility. Its geometric and formal design reveals surprising warmth in its ease of use and perfect functionality, thanks to the many possible versions: from the traditional sofa, to corner arrangements for pleasant and private conversations among friends, to the chaise longue for moments of relaxation. Simple, clean and inviting volumes convey the ease with which they can co- exist with those who use them.
CHARACTERISTICS
FINISHES
DIMENSIONS
PRODUCT SHEET
In addition to the armchair, the Met family includes stand-alone and sectional sofas in a product range that also contains a club chair and chaise longue, for relaxing and sharing. 
FABRIQUE
LEATHER
13F357
13F356
13F353
13F355
13F358
13F354
13F025
13F015
13F027
13F020
13F011
13F026
13F021
13F010
13F019
13F024
13F016
13F017
13F013
13F029
13F028
13F022
13F023
13F018
13F014
13F012
13E447
13E444
13E440
13E439
13E443
13E438
13E445
13E441
13E436
13E437
13E442
13E446
13F863
13F860
13F867
13F866
13F869
13F859
13F868
13F865
13F864
13F861
13F858
13F862
13S044
13S003
13S002
13S001
13S023
13S004
13S024
13S043
13S022
13S041
13S042
13S021
13E395
13E392
13E396
13E394
13E393
13E390
13E399
13E397
13E391
13E398
13F928
13F946
13F936
13F926
13F934
13F929
13F925
13F938
13F939
13F947
13F924
13F935
13F937
13F927
13F948
13F324
13F457
13F458
13F326
13F323
13F437
13F459
13F438
13F328
13F327
13F325
13F439
13O613
13O612
13O611
13O615
13O617
13O618
13O614
13O607
13O606
13O616
13L584
13L572
13L582
13L583
13L579
13L578
13L580
13L586
13L574
13L575
13L587
13L585
13L588
13L576
13L573
13L570
13L581
13L589
13L577
13L571
13L633
13L634
13L635
13L630
13L640
13L642
13L632
13L638
13L631
13L639
13L637
13L641
13L636
13L015
13L012
13L018
13L011
13L020
13L014
13L010
13L017
13L013
13L019
13L016
13L021
13F754
13F755
13F783
13F782
13F781
13F780
13F784
13F785
13F753
13F786
13L650
13L664
13L660
13L656
13L663
13L659
13L654
13L657
13L653
13L662
13L652
13L661
13L655
13L658
13L651
13O033
13O041
13O034
13O035
13O046
13O045
13O042
13O032
13O031
13O030
13O044
13O043
13O040
13O036
13O050
13O059
13O052
13O056
13O055
13O057
13O054
13O053
13O051
13O058
13O088
13O093
13O092
13O096
13O090
13O087
13O097
13O086
13O091
13O098
13O089
13O095
13O094
13O079
13O099
13Y283
13Y258
13Y260
13Y251
13Y274
13Y285
13Y276
13Y280
13Y282
13Y281
13Y244
13Y246
13Y253
13Y255
13Y257
13Y286
13Y284
13Z304
13Z306
13Z302
13Z303
13Z300
13Z308
13Z200
13Z307
13Z309
13Z305
13Z362
13Z366
13Z360
13Z367
13Z364
13Z363
13Z365
13Z361
13Z368
13X326
13X331
13X338
13X247
13X341
13X340
13X202
13X332
13X339
13X330
13X334
13X335
13X269
13X276
13X333
13X336
13X290
13X337
13X606
13X295
13X201
13X328
13X342